Moving Along From Massachusetts to New Hampshire
This article originally appeared on The Trek on July 28, 2021. Read it here.
Greetings from Lincoln, New Hampshire! My last update was about 296 miles ago from Great Barrington, Massachusetts. This means I'm about 700 miles into this hike from Boiling Springs, PA to Katahdin and have just under 400 miles to go to reach the northern terminus.
I've hiked the trail through the rest of Massachusetts, through Vermont, and into New Hampshire where the trail enters the White Mountain National Forest. It still feels like each state takes on a character of its own.
Massachusetts
Massachusetts feels like ages ago although it was just a few weeks ago. There were a couple of places where the trail walks right through town, so I was able to take care of town chores without having to find a room or hostel to stay in. One of my goals for this hike was to resupply more efficiently and not get "stuck" in town often, so the ease of town access there helped me succeed at that.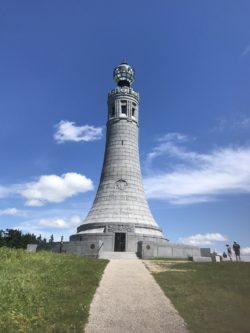 I also met another hiker in Massachusetts who became tramily (a nice little term for trail family) for a few weeks, which felt like another way that the trail always provides. I tend to feel a lot less relaxed when hiking in crowded areas, and we wound up hiking and talking on the day where we reached Mount Greylock, the highest point in Massachusetts. There is road access at the top with a visitor's center and a place to get food, and had I been alone that day, I likely would have felt like I couldn't get out of there fast enough due to all of the people around. It was nice to be there with someone so I didn't feel so alone in a crowd, and also to convince me I needed to eat a hotdog when I didn't feel like eating anything after the hot and humid climb up!
Vermont
The Appalachian Trail through Vermont was interesting to me because it was different than I expected, although I'm not really sure what I expected. I think it has to do with the fact that in my mind for a long time, Vermont was one of those northern states that was still so far off from me reaching it that I must have imagined it as some unknown, different type of place than the rest of the trail. Turns out that it still felt just like hiking the Appalachian Trail!
The trail through Vermont had some beautiful spots and it was very green, as is fitting as much of the trail there is within the Green Mountain National Forest. Much of the trail fit the stereotype the Appalachian Trail is known for by being a "green tunnel", meaning that the trail is in the woods most of the time and doesn't always have a lot of views due to the vegetation being thickly grown in at this time of year. I really enjoyed how the trail started to feel more like a pine forest in certain places, reminding me that I'm up north now.
I did get a bit socially overwhelmed in Vermont, and I think it has to do with the fact that the Appalachian Trail aligns with the Long Trail for about 100 miles. On any given day it felt like there were two sets of long distance hikers on one trail, and although I really enjoyed meeting a lot of people, I was ready for some reset time.
New Hampshire
At the time I'm writing this, I'm still making my way through New Hampshire. This area of the trail is often just referred to as "The Whites" because most of the trail in this state is within the White Mountain National Forest. The trail through this section so far is full of rocks, roots, and a lot of incline all the way up and down these mountains every day, and I know that won't ease up any time soon. Because of this, it's not as easy to hike as many miles per day as certain other places on the trail.
Current Thoughts
Since I'm up to date now, I can talk a bit more about how things are going in the moment. I think I've reached the point in the hike where I've begun to do some serious soul searching about life in general from noticing which aspects of the trail are challenging to me and why I react the way I do to those challenges. The trail is like a metaphor for life outside of the trail. It breaks life down to the basics and makes it easier to really notice and think about how I experience the world, and if there are ways I go about things that I would rather do in a better way.
My most profound mental battle in this way lately has been for me to ask myself whether this hike is about a goal or an experience, and whether or not a perfect balance exists where it can be both. Which is more important to me? What does that say about who I am as a person and how I'm choosing to live my life?
I don't want to be a person who misses life while it's happening. This is a profound experience and one I feel thankful to have. Yet I've noticed that when things start to teeter off course and I don't feel as much forward motion of my goal toward finishing the trail (aka finding myself spending more time in town than I'd like) I become pretty frustrated with myself and don't understand why I can't just keep moving along with my goal in the way I wanted it to go and why I'm getting stuck. But to not take in these times as part of the experience would also be a shame. So as I continue to ponder where the proper balance is for me and how to be more open to experiences while also moving toward my goal, let me explain more specifically where this comes from.
There are a lot of people on this trail. It is very easy on any given day to get swayed by what other people are doing. I know about myself that I'm not a very assertive person. If I go along with other people's plans when I didn't really want to, I get frustrated with myself. I also feel very drained by constantly sticking to my guns, and on top of that, constantly being around new people by not sticking with the same people. I'm trying to find the balance between the two and figure out the in-between where I'm doing my own thing but also being open to experiences I didn't intend such as extra time in town or slack-packing (hiking without a full pack) for a day because I decided it would be fun to stay around certain people. This is why a common phrase out here is "hike your own hike". The social aspect is real and can sway decisions and experiences on a daily basis.
Another big challenge has been maintaining a relationship. It's not easy for the person at home. My boyfriend was starting to feel the strain of never knowing when he'd be able to talk to me next and things started to feel stressful for both of us as we tried to convey our points of view of this experience to no avail.
He wound up coming to visit me for a few days in Hanover, NH. After that we decided he'd come back and hike with me for a few days. Then when he took a bus down to Boston so that he could travel home from there, I decided to go with him for a couple nights. We spent an afternoon walking around sightseeing, and before I knew it he was back home and I was back on the trail. Although I felt like I lost a lot of hiking time, and it's a struggle for me not feel frustration by that, the time together was much needed and a nice experience. It really helped reset both of us and set us up to get through the next period of time as I finish this hike. It's just another way I've been pondering the balance of goal vs. experience.
I'm glad to get this brief update out there, and I'll hopefully have a more detailed update soon about the White Mountains!